Cutting Edge Sustainability: UNM At Los Alamos
At the New Mexico Consortium Lab in Los Alamos, UNM researchers are exploring new technologies to shape a better world. Included in their research: sustainable energy production through biofuels, global food security, climate change, bio-analytical techniques, novel materials and exascale computing.
Join us as we tour the Bio Lab and the PRObE Computing Center to learn more about their exciting research! We will leave campus from the STEM Collaborative Center (http://stem.unm.edu/contact-us.html) at 8:30 am, and return to campus by 5:00 pm. Transportation and lunch will be provided free.
Registration Deadline:
Jul 4, 2016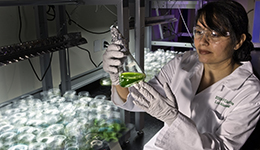 Instructor: Tim Schroeder
Who can attend: This event is open to all undergraduate UNM students
Meet at: UNM STEM Collaborative Classroom
Location: Los Alamos, NM
What to bring: Lunch will be provided free. Simply bring your curiosity, and we'll arrange the rest!
Days: Friday, July 15th, 2016. 8:30 am - 5:00 pm
Type: Trip