Santa Fe STEM + Art Trip To Meow Wolf
Take a trip with us to Santa Fe to expericane interteresting STEAM (STEM+Art) projects happeing in New Mexico. We will start the day at the exhibiton the Mouse In The Machine at the Thoma Foundation and than go to the immercive Meow Wolf exhibit to experiance the ways in which art can blend with STEM. We will also be taking a tour of the makers space at Meow Wolf where students will get to see the tools wich have made their exhibition possible.
Transportation will be provided!
Please meet us at 9:00am and we will return to UNM between 5:00pm and 6:00pm. Link to our location: http://stem.unm.edu/contact-us.html
For more information go to:
https://thomafoundation.org/mouse-in-the-machine/
https://meowwolf.com
Registration Deadline:
May 31, 2016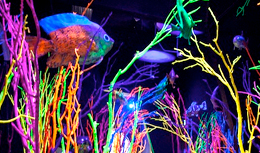 Instructor: Jazmyn Crosby, Tim Schroeder, Andrea Polli, Diane Marshal
Who can attend: All undergraduate UNM students
Meet at: STEM Collaborative Center at 9:00am
Location: STEM Collaborative Center, Education Classrooms Room 211, Building #67
What to bring: Comfortable clothing and shoes
Days: Spring 2016
Type: Trip