Light it Up! Solar and LED Tech
Solar and LED technologies are lighting the way for a sustainable planet! Join us as we explore the science, implications and applications of solar energy and LED light sources. Together, we will utilize spectrometers, prisms, solar panels, micro-inverters and wafers to better understand the potential and limitations of these exciting technologies.
TOPICS:
Understanding and assessing your energy footprint
Fundamental concepts of solar energy and LED technology
The economics of sustainability
The implications of solar and LED technology on social change
This workshop will be held at the STEM Collaborative Center (http://stem.unm.edu/contact-us.html), but will include outdoor activities at multiple sites across campus. Lunch will be provided free.
Registration Deadline:
Jun 9, 2016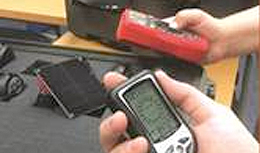 Instructor: Ganesh Balakrishnan, Associate Professor ECE
Who can attend: All undergraduate UNM students are encouraged to participate
Meet at: STCC Classroom
Location: STEM Collaborative Center
What to bring: All supplies, materials and lunch will be provided free. Simply bring your curiosity, and we'll arrange the rest!
Days: Spring 2017
Type: Workshop