Tintype Workshop : Photography and Science
Interested in revamping old photographic developing techniques? Learn more about the history and the process involved in tintyping!
Tintype is a photographic process imploring a direct positive on a thin sheet of metal. The process dates back to the 1850's. Tintype made photography more assessable to the general public by being much quicker and easier to use than the Daguerreotype. Tintype cleared the way for street photography and was the primary tool used to document the American Civil War.
Aziza Murray will be teaching the work shop. Murray is a recent graduate of UNM's MFA photography program, and creates Tintypes from her Instagram feed!
We highly recomend that students who register for this event also register for our "History and Process At The UNM Art Muesum Tour". The Univeristy of New Mexico Art Museum's perinant photographic collection is home to over 10,000 photographs that span the history of the medium. The tour will take students through the history of photoraphy and show examples of tintype as well as other alternitive processess.
http://www.azizamurray.com
This event is part of Photosummer 2016 for more information on Photosummer check their website at:
http://www.photosummer.org
Registration Deadline:
Jun 23, 2016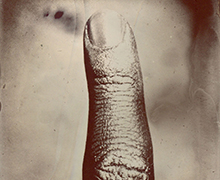 Instructor: Aziza Murray
Who can attend: This project is designed for undergraduate students who are interested in exploring the relationship between science and art. It is appropriate for undergraduate students ranging from freshman to senior, and no specific technical skills are required for participation.
Meet at: Popejoy Hall
Location: UNM Art Building
What to bring: N/A
Days: Saturday, June 25 (10:30-5:00)
Type: Project