Cyanotype Workshop : Science and Photography
Ever wonder how photograhs have become the way they are today? Want to know the chemistry involved in the process of making photographs?

Come find out at this event with Michael Gomez through the cyanotyping process!
Cyanotye is a photographic alternative photographic process known for it's vibrant cyan coloration. The process was invented in 1842 by John Hersheal, an astronomer who used the process to copy his notes. The process was than popularized by Anna Atkins who used the cyanotype to document plants. Cyanotypes use light sensitive salts instead of silver to produce an image and are sometimes referred to as blue prints. The process is still used today often in photographic proofing, while modern transparencies have made an old process contemporary.
Michael Gomez will guide students through the Cyanotyping process. This workshop will provide students with a background in the chemistry involved with the photographic process as well as an understanding and appreciation for the medium. Durring this workshop we will create coat paper, print, and tint the imadges.
We highly recomend that students who resgister for this event also register for our tour "History And Processess At The UNM Art Muesum". The Univiserity of New Mexico Art Muesums perminate photographic collection is home to over 10,000 photographs that span the hisotry of the medium. This tour will talk students through the hisotry of photography and show examples of the cyanotype pocess as well as other alternitive processess.
http://www.apologomez.com
This event is part of Photosummer 2016 for more information on Photosummer check their website at:
http://www.photosummer.org
Registration Deadline:
May 31, 2016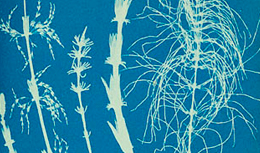 Instructor: Michael Gomez, Jazmyn Crosby,
Who can attend: This project is designed for undergraduate students who are interested in exploring the relationship between science and art. It is appropriate for undergraduate students ranging from freshman to senior, and no specific technical skills are required for participation.
Meet at: STEM Collaborative Center, EDUC 212, Map: http://stem.unm.edu/contact-us.html
Location: UNM Art Building
What to bring: We will look for interesting objects to make prints with as a group however, if there is an object that you think may create an interesting print please bring it with you.
Days: Spring 2016
Type: Project + Trip