Science and Serendipity: The Recovery of Cacao in Chaco Canyon
Interested in Southwestern archeology or anthropology? Curious about the scientific method or chocolate? Join us for a research talk from Dr. Patricia Crown, UNM's Distinguished Professor of Anthropology, and a hands-on seriation exercise.
The recent recovery of cacao residues in ceramics from Chaco Canyon came about because of a combination of scientific breakthroughs and serendipitous events. This research talk explores the recovery of cacao in Chaco Canyon and the connection to the Chacoan cylinder jars. It discusses why Chacoans might have consumed chocolate drinks and what this might mean for our understanding of Southwest-Mesoamerican interaction.
Stick around after the talk for hands-on practice conducting a seriation exercise, which is a method archeologists use to determine the date of recovered artifacts. During this activity, you'll learn how to use the number of particular cacao artifacts to generate curves that indicate the artifacts' time period of origin. This is a great introduction to archeological practices in the lab, especially if you haven't been able to take that intro anthro class yet!
Presenters:
Research talk; Dr. Patricia L. Crown, UNM Distinguished Professor of Anthropology
Seriation exercise: Clayton Meredith, Doctoral Candidate in Anthropology
Registration Deadline:
Jun 22, 2016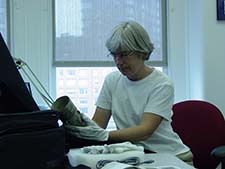 Instructor: Dr. Patricia L. Crown
Who can attend: UNM undergraduate students
Meet at: Dane Smith Hall, room 318
Location: Dane Smith Hall, room 318
What to bring: yourself
Days: Wednesday, June 22, 2016, 10 AM - 12 PM
Type: Workshop