Kasha Katuwe Tent Rocks National Monument
Transportation, lunch, snacks and water provided for this trip.

Kasha-Katuwe Tent Rocks National Monument is evidence of the powerful forces that have shaped New Mexico - explosive volcanic eruptions and long-term erosion by ancient rivers. As we hike through the beautiful slot canyon of Tent Rocks, we will examine ash deposits as evidence of the most dangerous and deadly hazards that can occur during a volcanic eruption: pyroclastic flows, surges, and falls. The tent-like features that we will see scattered throughout the canyon show us how some rocks erode quickly and other rocks are more difficult to erode.
We will hike all the way through the slot canyon, learning the story of these violent volcanic eruptions millions of years ago and will ask ourselves the most important question of all: will it happen again?
Students on this trip will
hike the 3 mile roundtrip Canyon View Trail through a very narrow slot canyon, stopping to examine the features that we see in the ancient ash deposits;
act like geologists in creating a story for what happened and what the environment looked like 6-7 million years ago; and
examine the formation of tent-like features called "hoodoos" due to the different erosion rates of rock materials.
PREP SESSION (required)
Wednesday, April 10 from 2 to 3 pm in the STEM Collaborative Center Classroom, EDU 212 (bldg 67 on campus map).
Students will learn about two geological concepts to gain an understanding of the rock formations at Tent Rocks: (1) pyroclastic deposits formed during an explosive volcanic eruption, and (2) how erosion of rocks happens and why some rocks erode easier than others.
FIELD TRIP
Saturday, April 13 from 9 am to 5 pm
SCHEDULE for FIELD TRIP
9:00 am - Sign-In in EDU 212
9:30 am - depart for Kasha Katuwe Tent Rocks National Monument
10:30 am - arrive at Tent Rocks
4:00 pm - depart Tent Rocks for UNM campus
5:00 - arrive UNM Campus
REQUIREMENTS
be able to safely hike 3 miles with an elevation change of approximately 1,200 feet
closed-toe sneakers or hiking boots
sunscreen, hat, sunglasses as most of the canyon is in direct sunlight
INSTRUCTORS
Kristen Rahilly, Earth and Planetary ScienceS doctoral candidate working with Dr. Tobias P. Fischer, Professor in Earth and Planetary Sciences; Director, Volatiles Laboratory.
Jessica M. Johnson, Earth and Planetary Science doctoral candidate working with Dr. Adrian Brearley - Professor in Earth and Planetary Sciences and Director, Transmission Electron Microscope Laoboratories.
Registration Deadline:
Apr 8, 2019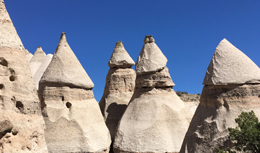 Instructor: Kristen Rahilly and Jessica Johnson, UNM Dept of Earth & Planetary Sciences
Who can attend: Undergraduate Students - Freshmen and Sophomore Students Encourage to Register
Meet at: Prep Session: Wednesday, April 10 from 2 to 3 pm
Location: Prep Session: STEM Collaborative Center Classroom, EDU 212 (bldg 67 on campus map)
What to bring: Your curiosity and love of hiking and science in the outdoors!
Days: Prep Session: Wed, April 10 from 2-3 pm & Trip: Sat, April 13 from 9am-5pm
Type: Trip