Discover Your Science: a Festival for Freshmen
Discover Your Science is an opportunity for you to learn more about science majors, research projects, cutting-edge technology, student organizations and student support programs at the University of New Mexico. It is a celebration of science, an introduction to new friends, and a jump-start on planning your science career.
Discover Your Science will be held on Saturday, August 18th, 2018.
During the Discover Your Science, you will meet professors, undergraduate and graduate students, and other individuals who will be important to your future success. You will engage in activities that introduce you to key concepts and opportunities.
FREE Lunch provided!

Break-out sessions with faculty and advisors!
Lab tours and hands-on events all over campus!
Student-run Q&A panel
Make-your-own ice cream social!
...and more!
PLUS: A free showing of the movie Black Panther starting at 3pm.
To save your spot and spots for any of your guests, visit https://stem.unm.edu/get-involved/discover-your-science-festival.html
You'll also find:
Maps to the event
Schedule of breakouts and tours
Strategies for making the most of the day, such as
How to talk to faculty
How to get involved with undergraduate research
How to join a Freshman Learning Community
How to manage your time well
And more! Click to get started!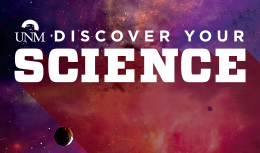 Instructor: Various
Who can attend: New freshmen plus families and friends.
Meet at: STAMM Conference room
Location: UNM College of Engineering Centennial Building
What to bring: Yourself and your curiosity to discover!
Days: August 18, 2018 9:30AM to 3PM (or 6PM, if you stay for the free movie!)
Type: Conference